Reiman Gardens named a "Top 10 Garden worth traveling for" in 2024
Author: Andrew Gogerty | Image: Andrew Gogerty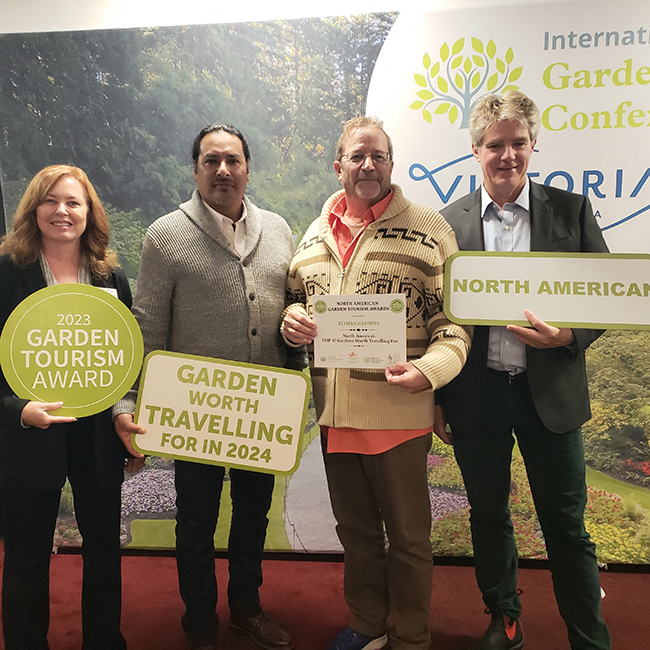 Reiman Gardens was recognized as one of the "Top 10 North American Gardens Worth Traveling For" on November 3, 2023. The award was presented to Reiman Gardens Director Ed Lyon at the International Garden Tourism Conference in Victoria, British Columbia, Canada, amongst peers from some of the world's most renowned botanical gardens.
A press release by the Canadian Garden Council noted that the award was "presented to gardens that have excelled in their efforts to cultivate and showcase garden experiences as compelling tourism destinations and truly exemplify the beauty and allure of our continent's horticultural treasures."
The award winners were selected by Garden Tourism leaders from the Canadian Garden Council, the American Public Garden Association, and the Mexican Association of Botanical Gardens.
Here is the complete list of the "Top 10 North American Gardens Worth Traveling For," in alphabetical order:
Atlanta Botanical Gardens, Atlanta, Georgia

Coastal Maine Botanical Gardens, Boothbay, Maine

Denver Botanic Gardens, Denver, Colorado

Fioli, Woodside, California

Gardens of Mexico (Jardines de Mexico), Morelos, Mexico

Haraveri Botanical Garden, Jalisco, Mexico

Montreal Botanical Garden, Montreal, Quebec

Niagara Botanical Gardens, Niagara Falls, Ontario

Reiman Gardens, Ames, Iowa

The Leaf, Assiniboine Park, Winnipeg, Canada
"Reiman Gardens is humbled and pleased to be awarded this recognition. It is my hope that our members, volunteers, donors, and community take great pride in their involvement and support with the Gardens, a true community asset."